Come join us at the ball park as the Texas Rangers take on the defending champion Kansas City Royals. Recently announced -- Michael Young will be inducted in to the Rangers Hall of Fame in a special ceremony prior to the game!

Tickets are $80 each for a seat in our air conditioned party suite with food and drink provided.

Come early to pick up a special "Franchise Four" Quad Bobblehead as well, featuring: Michael Young, Nolan Ryan, Ivan "Pudge" Rodriguez, and Adrian Beltre!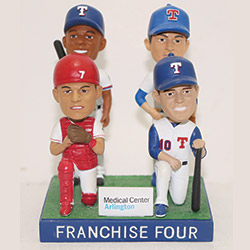 All profits from the event help us in our mission to provide scholarships to art students.

Hope to see you there - Cheers!